PUNJAB RURAL DEVELOPMENT DEPARTMENT TO DEVELOP 1500 PARKS & PLAYGROUNDS IN THE VILLAGES THIS YEAR: TRIPT BAJWA
· 750 parks to be developed, out of which work of 578 parks under progress, 750 playgrounds to be constructed, out of which work of 165 under progress
· During last two years 913 parks & 921 playgrounds have been constructed in villages
Chandigarh, August 9:(atal hind)
The Punjab Government in an effort to provide maximum facilities in the villages of the state is developing parks and constructing playgrounds in the villages. Disclosing this in a press statement issued here today, the Rural Development and Panchayat Minister Mr. Tript Rajinder Singh Bajwa said that this year 1500 parks and playgrounds would be constructed by the Rural Development Department, Punjab.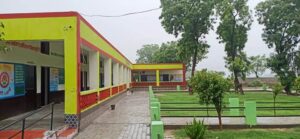 The Rural Development Minister said that despite the recent Corona pandemic 750 parks would be developed in the villages during the financial year 2020-21, out of which work of 578 parks is going on at full stretch. Apart from this the Rural Development and Panchayat Department has set a target to construct 750 playgrounds in the villages during this financial year out of which 165 playgrounds are under construction
Mr. Bajwa said that with the help of village panchayats not only the overall look of the villages has been facelifted, but the villages have also become greener by developing parks and playgrounds. 'This is a great effort to motivate the youth and children of the villages towards sports', the minister added.
He also disclosed that soon after the formation of the government under the leadership of Chief Minister Captain Amarinder Singh, the first orders issued by him to the officers of the department were to mark the vacant lands in the villages for the construction of playgrounds and parks. During the last two years of this government so far 913 parks have been developed during the financial years 2018-19 and 2019-20 and 921 playgrounds have been constructed during the financial year 2019-20 alone.
Mrs. Seema Jain, Financial Commissioner, Rural Development said that under the MGNREGA scheme construction of playgrounds and parks in the villages has provided employment to lakhs of needy people under MGNREGA. She assured that the set targets would be achieved in time despite the Corona pandemic. She also appealed to the village panchayats to contact the officials of the rural development department to develop parks and construct on vacant lands in the villages.