Ujjwal Sharma Thakuri , was honored by Doctor Arjun Kumar Karki ambassador of Nepal in US .
New York(atal hind)
Ujjwal Sharma Thakuri ,  was honored by Doctor Arjun Kumar Karki ambassador of Nepal in US . He received honor because he hold seven times Guninness Book of world record in different style in martial arts inside the USA from 4 different State . This is pride moment for Nepal , India and Pakistan reason as well as in USA. He also created "Fangkarya" game for Nepal which split the leg and do different kind of sport activities tournaments. He also created one good Player Name Rajendra Madai in Nepal for "Fangkaryu" . Rajendra Madai also created "Fangkaryu Naanchaku Kata ". For Nepal . Ambassador Doctor Arjun Karki called all the ambassy staff explain about achievement and why he deserved the recognition let the world and country know this news.
Ujjwal Sharma Thakuri, 46, of the Leewood community of Springfield has earned his 7th title in the Guinness Book of World Records. He made his world record history in Martial art style which is Vandam style heavy weight lift . fast kick and knee strikes. A World Martial Arts Champion, the Nepali native broke the record recent was 2020 was "The most one leg knee strikes while wearing 5 kg ankle weight is 157 . He need to knee strike above 4 feet high in three minutes .
He feel great and give thanks to Lord Shiva that he gave me the power to bring my name to the Guinness Book of World Records. I feel blessed by Bhrama Bishnu Maheswor that I did such a good thing for the country," as a being of Asian Immigrant in USA .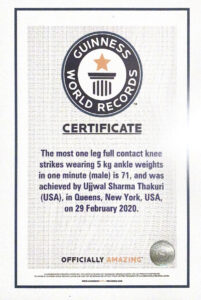 The sixth-degree black belt ("Roku") in American Marine GoJu-Ryu Karate has been written about hundreds of times in Nepali and American newspapers for his accomplishments. Today, he lives on Leebrad Street in Springfield with his wife US citizen Priyanka and US citizen daughter Elizabeth . He came to the U.S. 19 years ago after spending his childhood in Kathmandu, Nepal.
To prepare for the event, he tied weights to his legs and practiced knee strikes in his yard for three years. "You have to measure the height; you have to put the timer on the side and practice every day," he said. You have to do full strikes in the pad the way you play the game.
In Karate, the name of the powerful knee strikes is the "Hiza Geri." He said he hopes to achieve his 8 Guiness World Record soon, where he wears 5 kg of weights on his ankle and does knee strikes. The goal is to do more than 2000 knee strikes at four feet height for one hour. He wants to do this record form New York and possibly will ask for help. He already received the 6th world record one minute wearing 5 kg ankle weight 71 knee strikes in one minute.
He trained in Springfield with Lt. Col. Garry Klaus, USMC Ret., of the Soki American Marine GoJu is his Grand Master. He received his 6th degree black belt with Grand Master Garry Klaus.
Strictly an amateur fighter, he receives no financial rewards for his hard work but holds more than 30 national trophies, medals, belts cups , Seven Guinness Book of World Record Certificates inside the U.S. He is the first Immigrant who received 7 Times world record Title.
His Past accomplishments include the world record for the most full-contact knee strikes in three minutes (226 on one leg); he holds two world records for the greatest weight lift in Vandam lift , split his leg and weight lift (142.48 pounds); defeated Rob Van Dam who was 21 times wrestler world champion, whose record he broke two times. He also made the Two same world record for " Most egg crushed in one minute by fastest kick strikes is 64 and , second times was 68. All eggs has to be hang 4feet height and break one by one egg in one minute.
His other records include a World Championship Belt – the 2017 Kuro Bushi Martial Arts Organization Champion for special demonstration 10 minutes five different demonstration which is impossible but he did it. He also received World Title Belt from the Battle of Baltimore 2016 World Karate Championship. Special Demo One minute Van Dam style 30 wood chop while wearing 20 pound and 80 pound vest jacket . Another is a first-place Black Belt in Creative Form (Tensho Kata) which is his creation at the Amerikick International Championship martial art Game.
He received honored from Va Senator Tim Kaine , Va Senator Mark Warner, Va Congressman U.S. Gerry Connolly, Member of the assembly NY Catalina Cruz Organized by Nepali Congress Girija Prasad foundation President Somnath Gimire, Council Member Ny Fernando Cabrera as well as Ohio Sen. Sherrod Brown for being a five-time Guiness Record holder, He wants to Thanks all American Indian and Nepali journalist for writing his achievement and proud moments.